The farm and other animals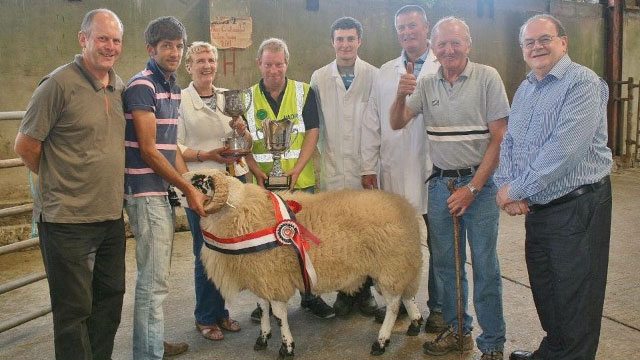 The farm has been handed down through many generations of the Moriarty family, Seans family have farmed mainly sheep over the years but also cattle for milk and beef.  There have always been horses on the farm, in the olden days the horses were used for pulling the turf for the fire in an out of the valley, ploughing the fields and taking the milk to the creamery.  
Some of our barns and stables are renovated old stone buildings which where either milking sheds or old family houses.
We now have around 60 sheep, these are mainly all mountain sheep, they generally lamb around St Patricks Day (17th of March) which keeps us extra busy.  New to our farm are two very special sheep, the two Zwartbles (pictured) they are a rare breed of sheep, we hope to keep expanding our flock of these breed, they are naturally tame and a delight to have around the place.
We also keep a selection of Scotch rams every year, these are well pampered sheep and are prepared for the annual sheep shows throughout the year! 
No farm is complete without the dogs and cats!
Snoopy is Katys dog, a completely doted on German Shepard cross Red Setter and very well behaved. She enjoys coming out on some of the treks and swimming in the rivers, she also likes getting in everyones photos!
Moss is Seans Sheepdog, a fantasic collie and an excellent worker, loves sheep (just as well) and loves being patted.
Kiwi and Lemon the two stable cats, they are sisters and are almost identical except Kiwi only has half a tail..  They are excellent hunters, they love living at the stables, and they also love food, and getting lots of attention from not only us, but the dogs and horses too!.
Luxury horse riding
amongst tranquil and
unique scenery
Glacial valley rides
and beach treks
Beginners to
experienced riders,
adults & children
welcome
Small groups
or private rides
Horse riding lessons
for all levels
Sea View Equestrian
Ballinloughig, Ballydavid
Dingle Peninsula
Co. Kerry, Ireland
00353 (0)87 133 8084
00353 (0)87 990 9926